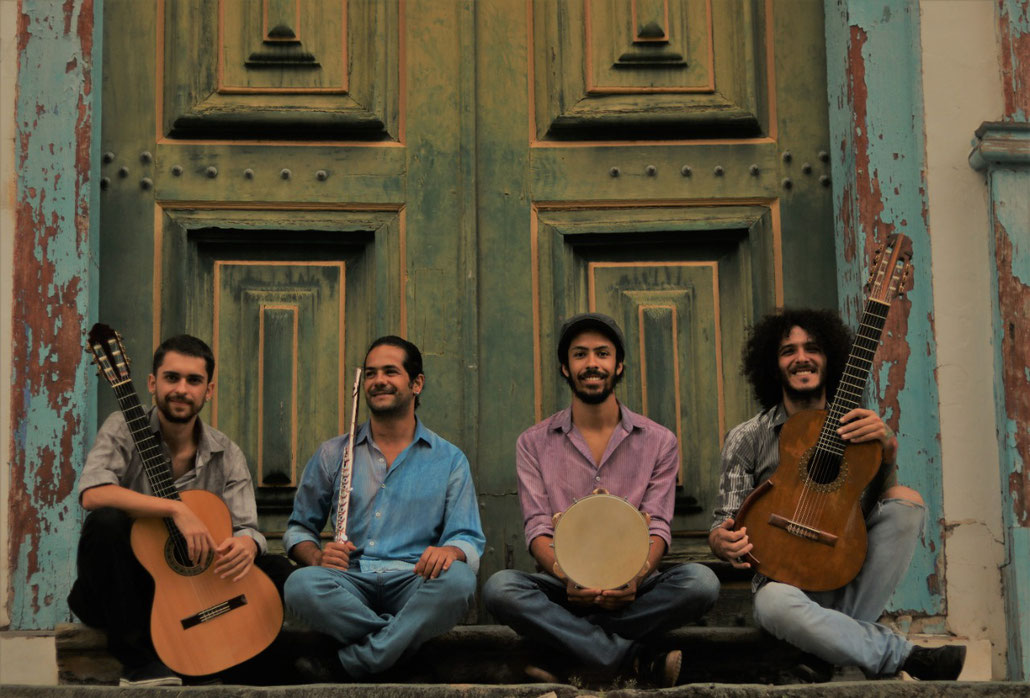 Now in the 3rd week of this residency, I have been fortunate to have meetings with several music specialists in Diamantina, from Baroque, Jazz to Bossa Nova. Still, there was one more musical heritage for me to encounter – the music of Chorinho, also known as Choro, a popular musical genre which originated from Rio de Janeiro in the mid 19thCentury. 
Known as 'the father of Samba' and 'the grandfather of Bossa Nova', Chorinho holds a significant place in the history of Brazilian music and its contribution to the development of other popular genres. Though its resources may not have travelled abroad as far wide as Samba or Bossa Nova, its musical features are just as important, and are at the very heart of Brazilian music. 
Prior to this meeting, I listened to several recordings of Chorinho. I have to admit, this is the first time for me to encounter this genre and I am totally new to it! Upon first hearing, I found this lightness in the music uplifting. When listening more intently though, it is not exactly so simple as perceived on first impression, and I was impressed by its complexity of rhythms and the interweaving of instruments. There were several questions which came to mind: what are the fundamental aspects which define 'Chorinho', and how did this heritage develop in Diamantina? Luckily, I had the opportunity to ask these questions directly to the specialists of Chorinho: flautist and organist Evandro Archanjo, and Soraya Araújo Ferreira Alcântara, director and founder of Arte Miúda (see blog #5).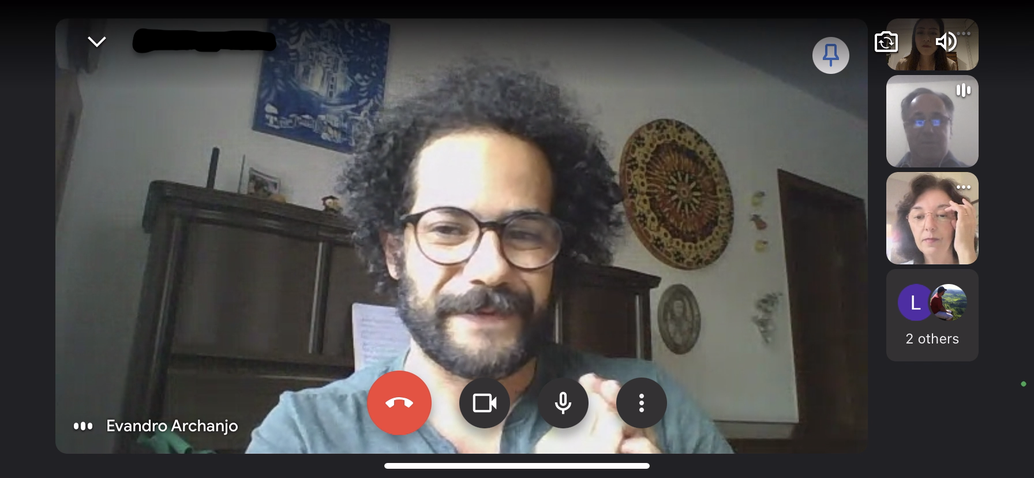 For anyone who has not heard of Chorinho before - to begin with, here is a performance by Evandro and his ensemble playing Chorinho: 
Chorinho in Diamantina 
Evandro started off the session by explaining that in Diamantina, there are three main exponents of Chorinho which have contributed to the revival and continuity of this genre in Diamantina. These are:
1)    Ateliê do Choro
This atelier was transformed into a venue for chorinho performances and a pub, by Evandro and visual artist/owner of atelier, Adriana Reis. What an artistic atmosphere!
2)    Arte Miúda
 One of the important projects which Soraya has carried out with Arte Miúda, the school for young musicians, is the 'Memory Project',  which aims to archive and revive Chorinho compositions in Diamantina. Founded 33 years ago, this project has recorded and produced the scores of various Chorinho compositions which may have otherwise been lost.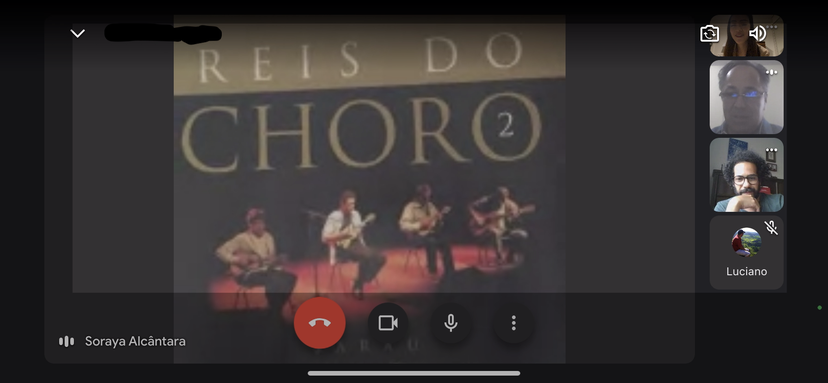 3)     Choro Malandrinho 
This is an ensemble dedicated to the performances of Choro. 
---
Instruments
Some of the most commonly used instruments in Chorinho are: 
Cavaquinho (Small guitar), guitar, flue, pandeiro (Brazilian percussion, similar to tambourine), clarinet. 
Soraya showed us her cavaquinho at her home – the sound is highly pitched and has a bright timbre. She also showed us a photo of her eldest son, Luis Fernando Alcântara, who plays the Cavaquinho (photo below) among other instruments, and who has recorded for the Memory Project.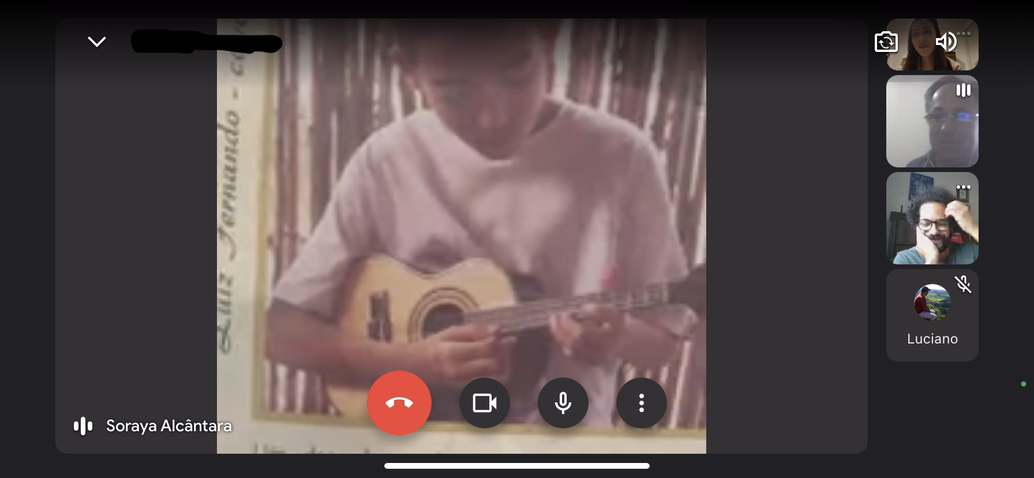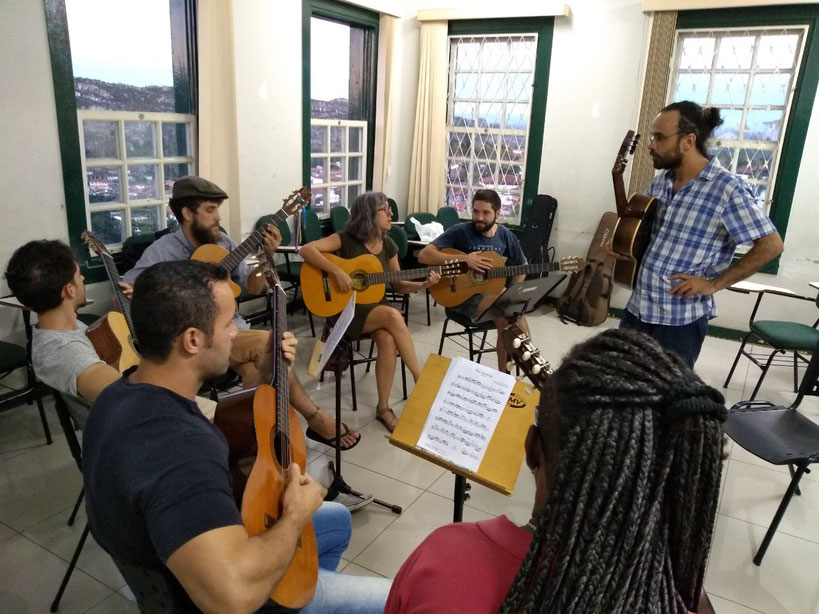 Although these are the most commonly used, there are no set rules or requirements for the instrumentation. Evandro told me that in the recent years, the addition of violin has become more common, with violinists like Nicolas Krassik playing Chorinho. So, good news for me. Also good to know about the flexible spirit of this genre, in which the possibility of exploration seems to be a widely-open space! 
---
Musical Features
As instrumentation is flexible, inevitably the different aspects, such as the texture can vary according to the instruments. I had also recently come across Villa-Lobos's Chôro, series of 14 pieces inspired by Choro composed for different instruments. Although these were written for the concert platform, and not in the same traditional context, it had made me wondered - what musical features define 'Chorinho'?
To this question, Evandro told me that it is 'a manner of playing'. It is something that is in the spirit of Brazilian people. When seeing Evandro's performance at the Ateliê do Choro (in the video above), it is very clear that this music is a form of social bond, which is formed through playing together. 
Although there are no distinct rules, there can be some characteristics.
There is a common structure, which goes:
A-B-C
-If A is a minor key:
-B would be major
-C would be the relative key of A. 
---
Composers 
Evandro and Soraya told me about many interesting composers in this genre, including some who are from Diamantina. In order to talk about each of them in detail, I would probably need several blog posts! Therefore, below is an indicative list of a few notable composers, as well as composers from Diamantina.
The first two are composers that Soraya have been featuring on the 'Memory Project', in order to archive their compositions: 
Conceição Reis 
A member of the Reis family from Diamantina, she composed Chorinho mainly for the piano. These are pieces of high calibre, which may be put alongside pieces such as Chopin and Ernesto Nazareth. 
Tina Reis
Also a member of the Reis family in Diamantina, she composed more than 40 Chorinhos, especially for cavaquinho. 
Chiquinha Gonzaga - (1847 –1935)  
A composer, pianist and the first woman conductor in Brazil, Chiquinha Gonzaga led the way at a time when music was not a profession to be taken by women. She was also the first pianist of Chorinho, and author of the first carnival march, "Ó Abre Alas" (1899). Here is a collection of her own Chorinhos: 
Ernesto Júlio de Nazareth (1863 – 1934) 
A composer and pianist, he was influenced by various types of rhythms, such as: polka, habanera, and the lundu. He combined these influences with the basis of classical music elements, which he called "Brazilian tangos". These would then lead to his Chorinho compositions. His piano compositions are now part of the teaching repertoire of both classical and popular styles:
Pixinguinha 
A composer, arranger, flautist and saxophonist. Considered one of the most important composers of Brazilian popular music and particularly of Chorinho, he introduced this music genre to new audiences by combining the traditional Chorinho from the 19th century with contemporary jazz-like harmonies and Afro-Brazilian rhythms. He was also one of the first Brazilian musicians and composers to utilise new technologies, such as radio broadcasting and studio recording.