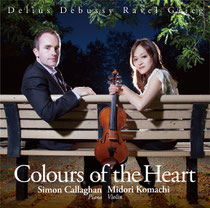 'Colours of the Heart' - a new album based on the colourful exchange between composer Frederick Delius and painter Paul Gauguin. 
Now available at online retailers including Amazon and iTunes.
For more information, please see Discography
Hear Midori & Simon's recent appearance on BBC Radio 3, live from the studio.
Midori Komachi (violin), Simon Callaghan (piano)
MusiKaleido MKCD001