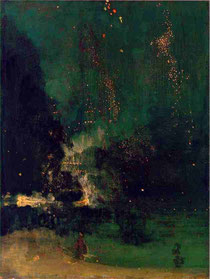 Ralph Vaughan Williams: Nocturne & Scherzo for String Quintet (1906)
I recently performed this piece with my colleagues of the Duport Ensemble, and I was struck by the imagery that Vaughan Williams creates in this wondrous music. Such sensuous sounds, arising to the atmosphere, are so unique to Vaughan Williams' chamber music writing – the more I explored, the closer I felt to the composer's passion for expressing imagery from sources of poems and folk songs.
Live Recording - I. Nocturne
Concert at St.James's Piccadilly, 2nd May 2014
Duport Ensemble –Midori Komachi (1st Vn), Haru Ushigusa (2nd Vn), Diana Mathews (1st Vla), Matt Maguire (2nd Vla)

Vaughan Williams had originally written a Ballade & Scherzo in 1904, but two years later, the Ballade was transformed to a Nocturne and a completely new Scherzo was written based on the folk-song 'As I walked out'.
The piece went through a major transformation, but there was a clear vision for this – within these two years, he had discovered and transcribed a myriad of English folk-songs, inspired by the beauty of these simple melodies. Such interest was partially due to the realization that even in the rural areas of Britain, folk-songs were starting to be neglected, because of the availability of printed music. In 1904, Vaughan Williams went on a journey around the countryside of Britain to collect folk songs.
As Vaughan Williams based many of his works on English poems, Nocturne was headed by Walt Whitman's By the Bivouac's Fitful Flame:                                        

By the bivouac's fitful flame,
A procession winding around me, solemn and sweet and slow--but
first I note,
The tents of the sleeping army, the fields' and woods' dim outline,
The darkness lit by spots of kindled fire, the silence,
Like a phantom far or near an occasional figure moving,
The shrubs and trees, (as I lift my eyes they seem to be stealthily
watching me,)
While wind in procession thoughts, O tender and wondrous thoughts,
Of life and death, of home and the past and loved, and of those that
are far away;
A solemn and slow procession there as I sit on the ground,
By the bivouac's fitful flame.    Walt Whitman (1819-1892)
Nocturne opens a world of a tranquil night and, an imagery, as clear as Whitman's words, appear in the darkness.
Somehow, I cannot help but to also think of colours of Whistler's Nocturne paintings, that evocation of mystic, inner passion subdued in dark colours. (Picture above) 
This is followed by Scherzo, which unfolds a completely new world of sound.

In the coming weeks, I will be exploring more of Vaughan Williams' works, and part 2 of this article (Scherzo) will be out shortly. 

More exploration to follow, so watch this space!
Related upcoming concert:

28th June 2014, 6:30pm

Recital at National Trust's Leith Hill Place
Organised by National Trust in association with Ralph Vaughan Williams Society
Leith Hill Place, near Coldharbour Village, Dorking, Surrey RH5 6LY
with Simon Callaghan (piano)
Ravel:                       Violin Sonata in A (1897)
Vaughan Williams:  Romance & Pastorale
                                 The Lark Ascending
Ravel:                       Tzigane
Vaughan Williams:  Six Studies in English Folk Song
Ravel:                       Violin Sonata in G (1927)