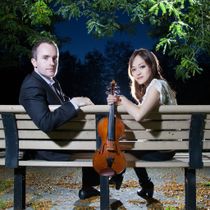 I am very excited to announce the release of my first album 'Colours of the Heart'.
Please read the following Press Release by Archery Promotions:
'Colours of the Heart'; a début album inspired by Delius and Gauguin, from violinist Midori Komachi
Violinist, Midori Komachi, has recorded her début album; sonatas by Delius, Debussy and Ravel, which has been inspired by her project 'Delius and Gauguin; a conversation'; a programme of music expressing the exchanges between composers and artists.  Midori has entitled her recording Colours of the Heart, on which she is joined by pianist and Steinway Artist, Simon Callaghan.
The CD is being launched at a recital on Thursday 3rd April 2014 in the Princess Alexandra Hall, Royal Over-Seas League, London, and this will be followed by a promotional concert tour which is to include Delius's home town of Bradford.
The three sonatas for violin and piano – the third Sonata by Delius; Debussy's in G minor, and Ravel's in G major – are characterised by their contrasting sense of languid impressionism, complexity of musical language, and extrovert jazz-inspired immediacy.
Midori's sense of freshness and intuitive approach to each of the different technical demands presented in these works offers a wonderfully contrasting programme which any music-lover would want to have in their collection.
The context of the album is based on the exchanges between the composer Frederick Delius and painter Paul Gauguin, whomet in Paris in 1894.  Centered around them, a circle of artists expanded – composers, painters and writers, including Ravel, Munch, Rodin, Ibsen, Hamsun and Grieg.
Grieg's heart-warming Lieder – songs which were originally part of the series Melodies of the Heart and dedicated to the composer's wife Nina – are also included in this, a premièrerecording of the transcription for violin and piano by Émile Sauret, and have inspired Midori's title for the album.
The works which are at the heart of the connection between these artists are Delius's third Sonata and Gauguin's painting Nevermore; which depicts a naked reclining Tahitian girl and which Delius purchased from Gauguin in 1898.  The picture was displayed in the composer's music room and became his most treasured possession.
"I was particularly interested in the way Delius's harmony begins to evoke darker, mysterious colours after this period", said Midori.  At the same time, Gauguin's palette starts to create expressive colours like music, as he put it: "Colour is the language of the listening eye."  This is the concept of the album, and also formed the way I approached these works."
And for Midori, the process of recording was similar to that of a painter putting the colours on a canvas, as she explained: "In Delius, the contrasting colours naturally emanate from the harmony, so the challenge was to create the flow of overlapping colours in the recording environment."
"In Debussy, my approach refers to a connection made by the French violinist Joseph Calvet, who was told by Debussy that the piece was inspired by scenes from Pelléas and Mélisande.  Therefore I felt it was necessary to capture characteristics which illustrate scenes, rather than just atmospheric colours.  In Ravel, the composer described this Sonata as "a picturesque adventure", and so the development and changes of colours through time and structure were an important aspect."
A prodigy of the Basel Music University in Switzerland, Japanese-born Midori has performed in major venues world-wide, having completed studies at the Royal Academy of Music in London with Maurice Hasson and Tomotada Soh, and winning numerous prizes including the Sir Arthur Bliss Prize.
As an active chamber musician and recipient of the Emerging Excellence Award 2012 from the Musicians Benevolent Fund, she has performed alongside renowned artists such as the Kreutzer Quartet, Stephan Picard and Nobuko Imai.
Alongside her performing career, Midori has founded various concert projects based on different research topics.  In 2012, her Delius Project culminated in a series of concerts in London, Cambridge and Tokyo and featured in the Arts & Collections International Magazine and Nikkei Newspaper in Japan. In January 2013 Midori was awarded the Delius Society Certificate for her performances of the Delius Violin Sonatas.
Midori's concert tour and CD release are supported by Arts Council England, The Delius Trust, The Vaughan Williams Charitable Trust, The Nicholas Boas Charitable Trust, and publicity is being managed by the music consultancy, Archery Promotions.
Colours of the Heartwill be available from Thursday 3rd April as a CD and download from Amazon, iTunes and through Midori's website.  Tour dates are listed below and further information can be found at:www.midorikomachi.com
Information about pianist Simon Callaghan can be found at:www.simoncallaghan.com
Friday 21st March 2014 at 1.00pm
Pre-CD Launch Recital
St. Martin-in-the-Fields, Trafalgar Square, London WC2N 4JJ
www.stmartin-in-the-fields.org
Midori Komachi, violin; Simon Callaghan, piano
Delius: Légende
Britten: Suite for Violin and Piano Op.6
Ravel: Sonata for Violin and Piano in G major
FREElunchtime concert, no ticket required
Thursday 3rd April 2014 at 7.30pm
CD Album Launch Recital
Princess Alexandra Hall, Royal Over-Seas League
Over-Seas House,Park Place, St James's Street, London SW1A 1LR
Midori Komachi, violin; Simon Callaghan, piano
Delius: Sonata for Violin and Piano No.3
Grieg: Sonata for Violin and Piano No.3 in C minor Op.45
Delius: Légende
Complimentary drink per ticket included at post-concert reception
Adult:£15.00, Students/Under 18s:£8.00
Booking:Brown Paper Tickets UK Ticket Office
Online:http://albumlaunch.brownpapertickets.com
Tel:  0800 411 8881
Saturday 5th April 2014 at 3.00pm
Delius Arts & Culture Centre
www.artworkscreative.org.uk
29 Great Horton Road, Bradford, West Yorkshire BD7 1AA
Midori Komachi, violin; Simon Callaghan, piano
Family Concert: 'Delius and Gauguin'
Selected movements from:
Delius: Sonata for violin and piano No.3
Debussy: Sonata for violin and piano in G minor
Ravel: Sonata for violin and piano in G major
Grieg: Sonata for violin and piano No.3 in C minor 
Adult:£6.50, Children:£3.00
Booking:www.deliusfamilyconcert.eventbrite.co.uk
Friday 2nd May 2014 at 7:30pm
St. James's Church, 197 Piccadilly, London W1J 9LL
Midori Komachi and the Duport Ensemble
Moeran: String Trio
Delius: String Quartet
Vaughan Williams: Nocturne & Scherzo for String Quintet
Grieg: String Quartet in G minor
Adult:£15.00, Students/Under 18s:£8.00
Booking:Brown Paper Tickets UK Ticket Office
Online:http://duportensemble.brownpapertickets.com
Tel:  0800 411 8881
-Ends-
Notes for Editors
Archery Promotions
For information, photographs and interviews, contact Karen Fletcher at Archery Promotions:
m: 07973 175588archerypromos@btinternet.comTwitter: @archerypromos
An image of Gauguin's painting, 'Nevermore' with credit is available on request.
Midori Komachi, violin:www.midorikomachi.comTwitter: @midori_komachi
Simon Callaghan, piano:www.simoncallaghan.com  Twitter: @simondcallaghan
Simon Callaghan's recent engagements have included Wigmore Hall, Fairfield Hall, Birmingham Symphony Hall and Liverpool Philharmonic Hall. He has performed throughout the UK, Japan, South Korea, Austria, France and Belgium and has been featured on BBC TV and radio. Simon has an extensive concerto repertoire of over 25 works and has worked with many orchestras including the Royal LiverpoolPhilharmonic.  He has also recently released a two-disc recording of Delius orchestral works in arrangements for two pianos with Hiroaki Takenouchi, and two discs of Brahms with James Barralet, all on the SOMM label: 
The Duport Ensemble:www.midorikomachi.com/projects/duport-ensemble
The Delius Trust and Society:www.delius.org.uk